Collecting new cards and upgrading existing cards are key components of the gameplay in the Fantasy Arena. The better quality and higher rank your cards are, the higher chance you have of defeating your opponent! The most common way to obtain cards is by unlocking chests. Now there are several methods to help you obtain chests to collect and level up your cards in a short time.
1. Winning a battle. One chest will be obtained by winning a battle, and a maximum four chests can be kept. Keys are needed to unlock chests, and increase automatically for every 3 hours and will stack (maximum 4).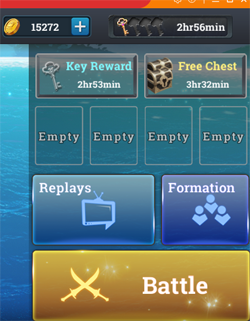 2. The system awards Free Chests every 4 hours. These chests don't require keys.
3.Buying cards with gold. Three kinds of cards will appear: Common Cards, Rare Cards, and Epic Cards. As you buy cards, their value and price increase. Each group of cards is changed every 24 hours, so if you see the cards you want, don't hesitate to buy them!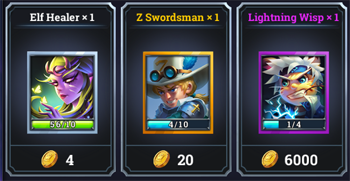 4.Buying Chests in the Shop. There are four kinds of chests sold in the shop. The better the Chest is, the better the rewards (more gold, more and rarer cards) will be. No keys are needed to unlock purchased chests.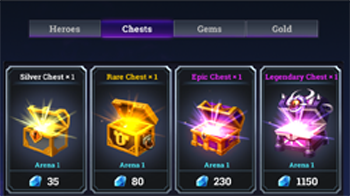 5. Request cards from your Clan. Join a clan to make friends and exchange cards. In the clan, you can request Common or Rare cards every 8 hours.